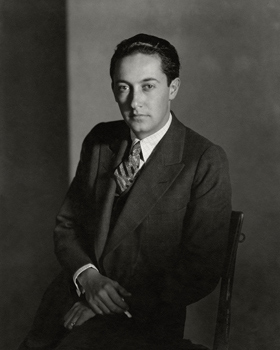 Irving Thalberg
This is my MGM tribute website. Spending my childhood growing up in Culver City with MGM in my backyard. Iam proud to say like many others that Iam also a "Metro-Child". My grandmother on my mother's side of the family maried Louis Sarli the concert master of the MGM's Studio Orchestra in the 1940s/50s with

a possible family relation to MGM musical director

George Sidney. Later on in life through our mutual hobby of Astronomy I briefly did know music composer Leonard Rosenman who did know my

step-grandfather which thrilled me.

Early on in my childhood my mother told me stories about MGM especially my family connection when we would be watching one of the many classic films with showing me the various movie sets from driving by the studio on the way home from Culver Center.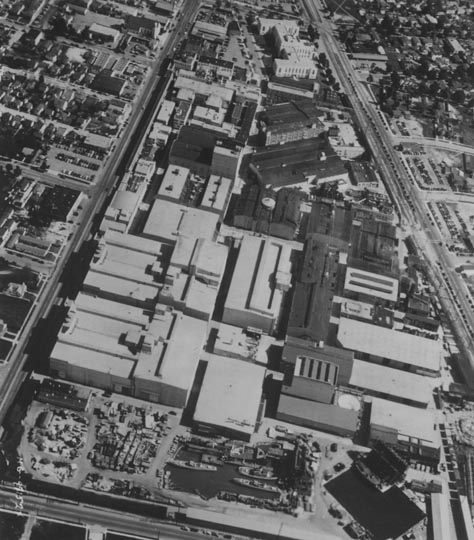 MGM STUDIOS MAIN LOT#1 (Stages & Offices)
SEE GREAT IMAGES OF MGM's BACKLOT
MGM Metro Goldwyn Mayer (MGM) was born in 1924. Metro came from an early film company, which belonged to Marcus Loew, Goldwyn came from the producer Samuel Goldwyn and Mayer came from the producer Louis B. Mayer. In 1939, MGM gave us two of the classics of all time: Gone with the Wind and The Wizard of Oz. In 1959, the studios gave us Ben Hur. Then a young man signed up with MGM named Mickey Rooney and made seventeen Andy Hardy movies. The list goes on to include: Marx Brothers, Clark Gable, Jimmy Stewart, Frank Sinatra, Fred Astaire & Ginger Rogers, Gene Kelly, Elizabeth Taylor, Lucille Ball, Jean Harlow, Laurel & Hardy, Esther Williams, Buster Keaton, Greta Garbo, Red Skeleton, Bette Davis, Jimmy Durante, Margaret O'Brien, Donna Reed, Robert Young, Lana Turner, Jane Powell, Wallace Beery & Marjorie Main, Peter Lawford, Joan Crawford, Lionel Barrymore, Paul Newman, Kathryn Grayson, Hedy Lamarr, Mario Lanza, Greer Garson, Angela Lansbury, Rosalind Russell, Robert Taylor and Jackie Cooper, Spencer Tracy & Katharine Hepburn, and much, much more.

The company was bought by Kirk Kerkorian, who auctioned off some of the pieces of the history of the studio acres and possessions. Kerkorian used the money from the studio to construct MGM Grand hotel in Las Vegas. MGM moved to a new location in Century City and in Santa Monica buildings.

In 1979, he issued a statement saying that MGM was primarily a hotel company. After acquiring United Artists in 1981 and re-naming the company MGM/UA, he sold the film library to Ted Turner for his cable TV channel. In 2004, MGM will merge with Sony Corp of America for $5 billion. The acquisition is mainly for the library of films, including the franchises of James Bond, the Pink Panther and Rocky, since Sony already owns the lot.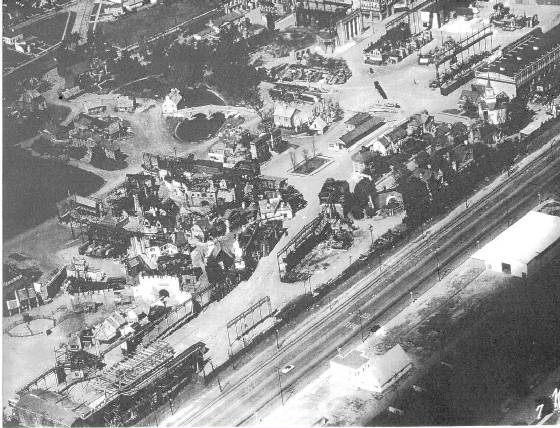 MGM's BACKLOT #2 (Looking N/E)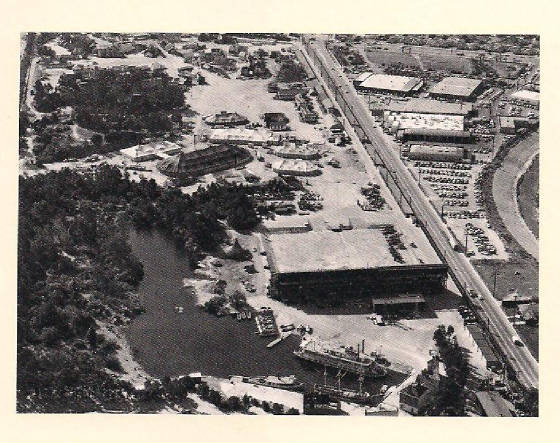 MGM's BACKLOT #3 (Looking W)
GOOGLE VIEW OF THE STUDIO & LOCATIONS OF BACKLOTS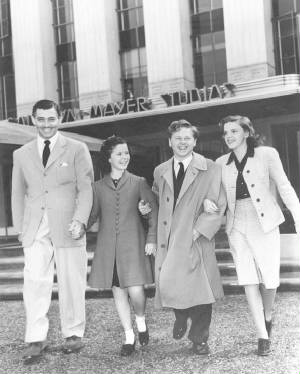 EVERYTHING YOU WANTED TO KNOW ABOUT MGM
KING KONG SET BURNS AT MGM (GONE WITH THE WIND)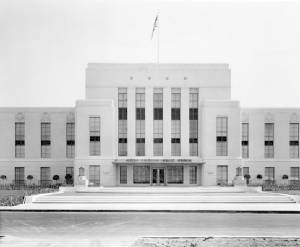 THALBERG BUILDING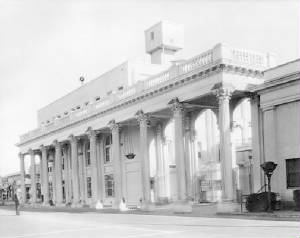 MGM FRONT GATE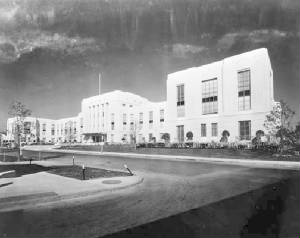 MGM ADMINISTRATION BUILDING
MGM LOT#1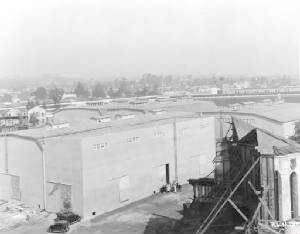 MGM LOT#1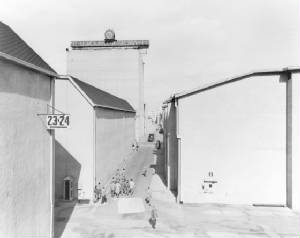 SOUND STAGE AT MGM LOT#1
Metro-Goldwyn-Mayer Inc., or MGM, is an American media company, involved primarily in the production and distribution of films and television programs.

MGM was founded in 1924 when the entertainment entrepreneur Marcus Loew gained control of Metro Pictures, Goldwyn Pictures Corporation and Louis B. Mayer Pictures. Loew combined them into a new film company with Mayer as its head of production. The newly formed Metro-Goldwyn-Mayer was intended to provide quality feature films for the Loew's Theatreschain and was wholly owned by Loew's Incorporated.

From the end of the silent film era through World War II, Metro-Goldwyn-Mayer was the most prominent motion picture studio in Hollywood, with the greatest output of all of the studios: at its height, it released an average of one feature film a week, along with many short subjects and serials. A victim of the massive restructuring of the motion picture industry during the 1950s and 1960s, it was ultimately unable to cope with the loss of its theater chain – due to the U.S. Supreme Court decision United States v. Paramount Pictures, Inc. (1948) – and the power shift from studio bosses to independentproducers and agents.

On April 8, 2005, the company was acquired by a partnership led by Sony Corporation of America and Comcast in association with Texas Pacific Group (now TPG Capital, L.P.) and Providence Equity Partners. MGM Mirage, a Las Vegas-based hotel and casino company listed on the New York Stock Exchange under the symbol "MGM", is not currently affiliated with Metro-Goldwyn-Mayer.

Sony Pictures currently distributes MGM/UA and Columbia TriStar co-productions— including the recent Casino Royale—but outside of the co-productions MGM is now actively involved in acquiring worldwide film rights and distributing theatrical motion pictures in the United States. 20th Century Fox is handling the international theatrical distribution and worldwide home video distribution of MGM titles, excepting those which Sony Pictures acts as majority partner.

Established in 1924, MGM is tied for the fifth-oldest movie studio in history with Columbia Pictures. The studio's motto, "Ars Gratia Artis", is Latin meaning "Art for art's sake."

C/O Wikipedia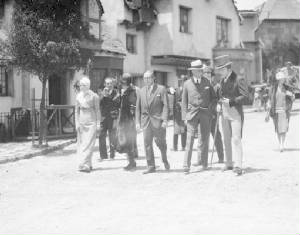 FIRE DESTROYED SETS ON MGM'S BACK-LOT IN 1967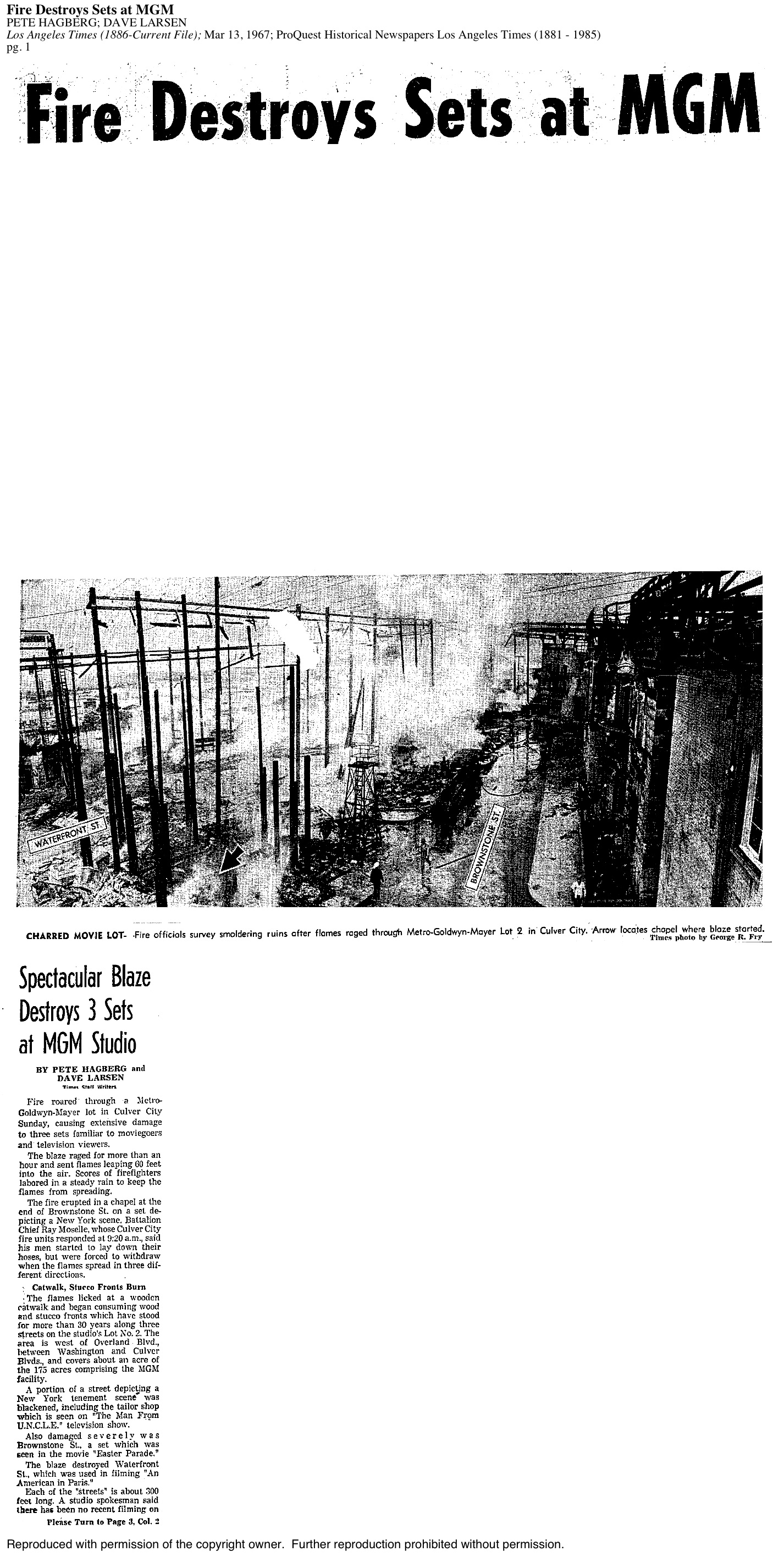 FIRE DESTROYS SETS AT MGM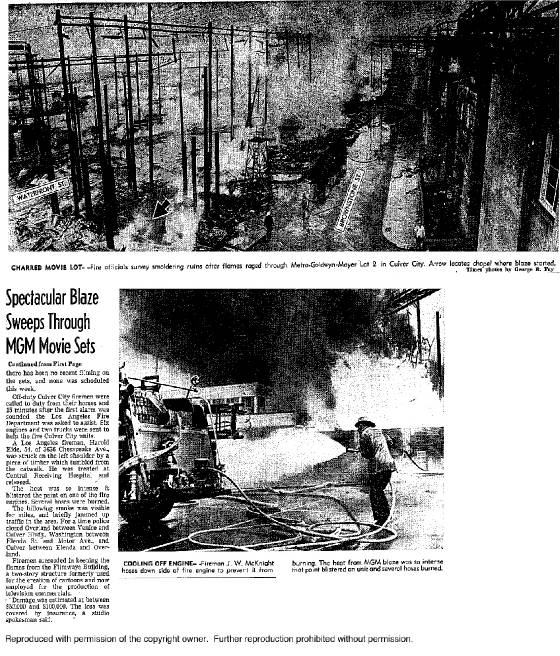 MAY 13, 1967 FIRE AT MGM STUDIOS CULVER CITY, CA.
MGM STUDIO BACKLOT 1979-1980 Part1
MGM STUDIO BACKLOT 1979-1980 Part 2
RETRO 1970'S IMAGES OF MGM LOTS #2 and #3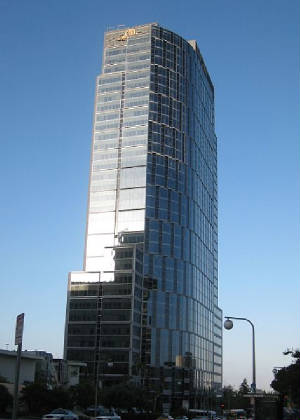 THE NEW MGM OFFICE TOWER, CENTURY CITY, CALIFORNIA